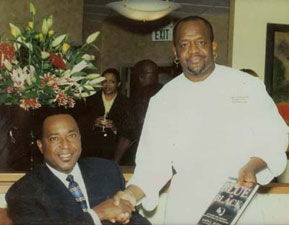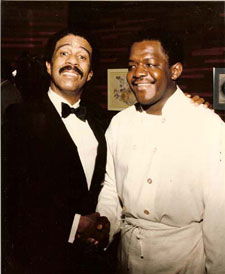 Frank D. Faté, Chef de Cuisine
Appetizers, Appetizer Platters, Salads, House Specialties, Dinners, Specialty Dinners, Desserts, Sandwich Boxed Lunches, Extras, Private Cooking Lessons, Personal Chef Service, Contract Info, Deposit Payment Policy, Make A Deposit, Pricing, Guarantee, Tax Exempt, Addition Fees/Services, Disclaimer
Frank D. Faté grew up in Monterey, California where his interest in cooking began in his senior year in High School at the Culinary Art's Program. There he began his culinary career in the lunch room cafeteria.
Chef Faté continued his education at Monterey Peninsula College in the Hotel/Restaurant Management Program. Faté's interest in the culinary experience took him to City College of San Francisco where he completed his training which included his apprenticeship at the Carnelian Room in San Francisco and the Bohemian Grove at Russian River. He expanded his knowledge in the restaurant business by graduation from UC Berkeley's Hass School of Business Fast Trac I and II programs that focused on developing business plans and financial planning for aspiring entrepreneurs.
His Reputation and recipe for success has been built in the East Bay at such places as Gulf Coast Oyster Bar in Oakland where he was known as the "Gumbo God", at Town House in Emeryville for his jambalaya, soup's, sauces and specials, and at Geoffrey's Inner Circle in Oakland for his New Orleans style southern cooking at the weekly Sunday Gospel Brunch. His culinary journey took him to Oakland's historical Ratto's where you enjoyed his fusion of Mediterranean, Italian and Cajun dishes that were the talk of the town.
Chef Faté was recently named as one of the trend setting African-American chefs in the Bay Area who have received recognition on the national level.
Chef Faté believes in using his gift to make a meaningful difference in the world by contributing his time to the community as a Youth Career Mentor with the Oakland Public Schools, volunteering as the food Concessions Team Leader at the Festival at the Lake in Oakland and as a consultant for AIDS Meals on Wheels "Project Open Hand." He also supports the Lincoln Child Center.
Chef Faté's love for cooking has made him a master of all taste experiences.